By Heather Mills, V.P. for Grant & Funding Strategies
The Treasury Department released new guidance on its long-awaited, $10 billion Coronavirus Capital Projects Fund program—an extremely flexible opportunity that will deliver funds to each eligible state, territory, and tribal entity. State governments will now work with Treasury to receive their allocations—so now is also the time for local governments to advocate at the state level for their key broadband projects.
What can these funds be used for?
As we noted back in May, this program will deliver guaranteed funding to the states for the purpose of ensuring "access to the high-quality modern infrastructure, including broadband, needed to access critical services." (See Treasury's Allocation Information for a list of allocations by state, territory, and tribal area.)
The updated guidance issued gives us a clear picture of the kinds of projects Treasury has in mind—and that state governments will thus be considering as they decide how to allocate their funds:
"The COVID-19 public health emergency highlighted that access to high-quality internet can enable work, education, and health access, and that individuals and communities that lack affordable access to such high-quality internet are at a marked disadvantage. Investing in broadband for communities sensitive to or that have historically experienced these inequities will be critical for improving digital equity and opportunity, especially in the case of communities that currently lack access to the affordable, reliable, high-quality broadband internet that is necessary for full participation in school, healthcare, employment, social services, government programs, and civic life."
The program will allow funds to be used for costs that fit in one of three main categories:
Broadband Infrastructure Projects: "[C]onstruction and deployment of broadband infrastructure designed to deliver service that reliably meets or exceeds symmetrical speeds of 100 Mbps so that communities have future-proof infrastructure to serve their long-term needs."
Digital Connectivity Technology Projects: "[P]urchase or installation of devices and equipment, such as laptops, tablets, desktop personal computers, and public Wi-Fi equipment, to facilitate broadband internet access for communities where affordability is a barrier to broadband adoption and use." You read that right: Affordability matters. Those who can't afford to pay for services, even if available, are considered unserved.
Multi-Purpose Community Facility Projects: "[C]onstruction or improvement of buildings designed to jointly and directly enable work, education, and health monitoring located in communities with critical need for the project."
Proposals for all projects need to address the ability to do work, education, and health monitoring remotely. While fulfilling these requirements may feel intuitive for category 1 (Broadband Infrastructure Projects) and category 2 (Digital Connectivity Technology Projects), category 3 requires expansion of our concept of libraries, community centers, and health centers—as well as a retooling of the scope of services these institutions can offer.
Devices funded by the program can't be locked with filters and they can't have usage caps that would hinder household needs.
Multi-purpose Community Facility Projects will require legwork by agencies involved in the design to institute appropriate privacy and confidentiality controls. This process would include both virtual and physical considerations and should ultimately make it easier for patrons to access healthcare, education, and work.
Affordability and Speed as a focal point
Unique to this program is the focus on determining where affordability is a barrier to broadband adoption and use and an emphasis on the importance of providing 100 Mbps symmetrical speeds. If you haven't done so already, make sure you incorporate affordability in your planning. It will be essential to your project justification and documentation of community need, as well as the way you track the project's progress in addressing those needs. Additionally, an eligible area is defined simply as one that cannot receive affordable, reliable, fixed wireline service of at least 100/20 Mbps. Further, RDOF-awarded areas are eligible if the service being provided is not affordable or at or above 100/20.
For infrastructure projects, the unit of analysis is not individual households, but communities. This means low-income and other communities not being well served by the private sector can be targeted without worrying about exact boundaries of served and unserved. Treasury suggests providing a list of federal sources (such as census data) to document the need, but if you have local data on social and health indicators, that would be even better. Your mapping should utilize a community focus to aid in analysis of priority areas.
How can your locality benefit from this program? And what should you be doing now?
Keep in mind that this is not a competitive grant program at the source (Treasury). Rather, the prioritization and distribution of allocated funds will occur at the state, territory, or tribal government level. For localities with candidate projects, a lot will depend on the states, territories, and tribal governments, and their decisions to apply for the funding.
Also, while it feels like a done deal that every eligible entity will apply, there may be exceptions. And while there is time for localities to get their ideas to their state governments to be considered a "subrecipient" of funding, the states are not required to reach out for ideas from localities. Make sure you get in front of your state broadband office or equivalent lead agency; get your needs in front of them and get a sense of their initial thoughts on the process.
Funds are block-grant type, so they are "guaranteed" allocations for your state or other governing body. Your state has enormous freedom in structuring the process for which projects to fund. This could mean that it either intentionally or unintentionally restricts the funding by applying outdated procedures and rules.
If a broadband office, for example, decides to award funds through its existing grant program it could end up reintroducing a funding match requirement—or an old definition of "unserved" (e.g., limiting unserved areas to those that can only receive less than 25/3 by any technology; ignoring reliability, affordability, and technology (wireline) components; or, conversely, allowing funding of projects with fixed wireless design and not taking affordability into account).
These would end up locking out the very communities that the Treasury program is aiming to serve. Make sure you talk with your state office to ensure your community's needs are considered; that the funding process is adopted fairly; and that the process reflects the funding source's flexibility and intentions.
So, what happens now?
Eligible entities must apply to Treasury for the funding by December 27, 2021. Once they have done so, Treasury will issue a grant agreement (remember, if the eligible state, territory, or tribal entity wants the money, they have a right to it per the ARPA law). Once the grant agreement is signed, most eligible entities will have 365 days to file a grant plan for approval by Treasury on how the funds will be used. The exception is for Tribal governments; their grant applications will serve as their grant plans. The grant plan can be revised during the 365-day period, if needed.
All funds must be expended by no later than December 31, 2026.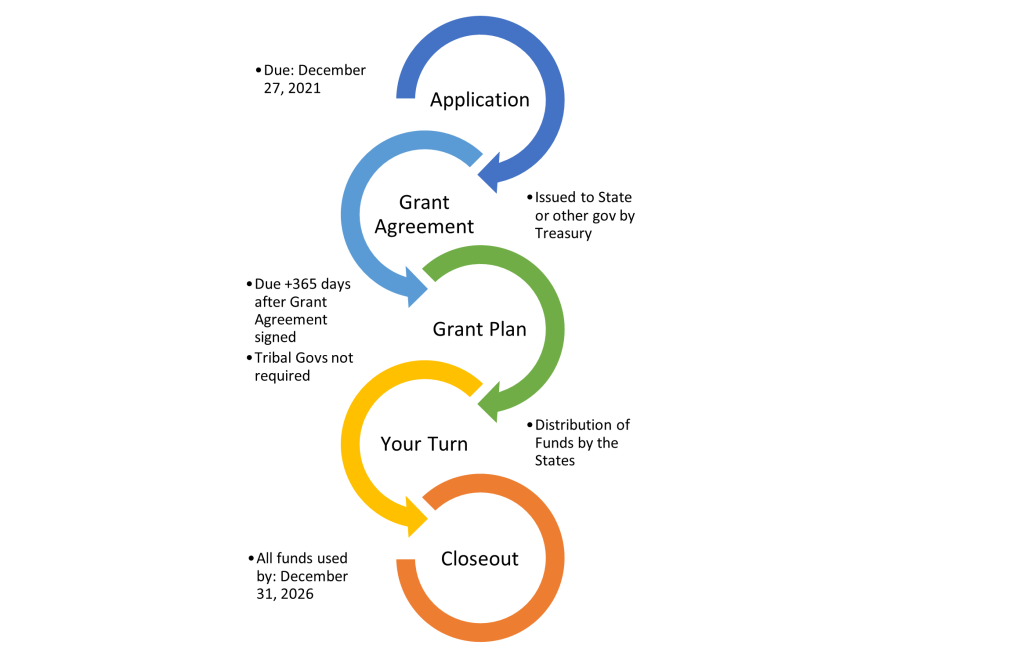 CTC's Grant and Funding Strategies team continues to analyze the latest developments in infrastructure funding. Please contact us if you have questions or would like to discuss how CTC can assist you.