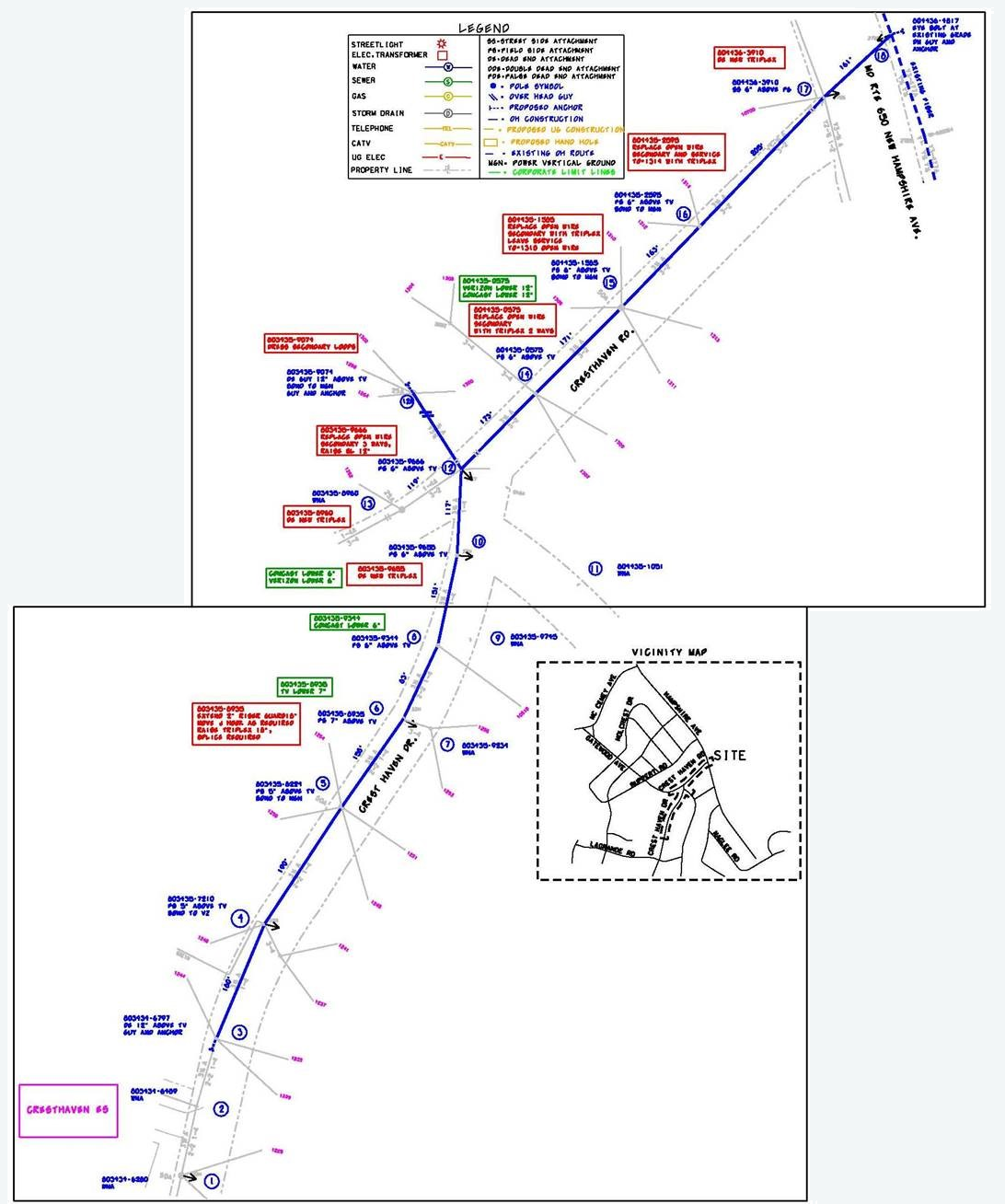 CTC has decades of experience in all aspects of communications network design and construction. From high-level conceptual designs to detailed street-level engineering, we understand how to build networks tailored to a community's goals.
Our designs include fiber optics (middle-mile and fiber-to-the-premises), Wi-Fi, distributed antenna systems (DAS), microwave, and TV "White Spaces."
We have designed, engineered, and overseen the construction of thousands of miles of outside plant (OSP) fiber, including for municipal FTTP initiatives and middle-mile networks.
We are engaged in an 80-mile FTTP design, engineering, and construction oversight project for the City of Westminster, Maryland, as well as similar fiber engineering and construction oversight for Anne Arundel County, Maryland, and Arlington County, Virginia. We previously created the outside plant (OSP) architecture for the New Zealand national fiber-to-the-home buildout.
Alford, MA
CTC's engineers and analysts are helping this rural town in western Massachusetts to deploy a roughly 25-mile fiber-to-the-premises (FTTP) network to connect about 350 residences. The network deployment, for which CTC is delivering engineering and construction oversight services, capitalizes on the Massachusetts Broadband Initiative (MBI) backbone fiber that connects Alford's fire station. Working with the Town's Municipal Light Plant, CTC is providing guidance on aerial make-ready and preparing an Invitation for Bid (IFB).
Anne Arundel County, MD
CTC has provided the county with OSP fiber design and engineering support for multiple large projects. In 2010 to 2012, CTC provided OSP engineering for a federally funded project to connect community anchor locations (e.g., government buildings, schools) and expand the county's fiber infrastructure. The engineering for that project totaled over 70 miles, and included a rural FTTP network in the southern portion of the County.
In 2015, we provided OSP engineering for a County-funded project to connect schools and traffic signal locations and further extend the county-built fiber infrastructure by 90 miles.
Our work on both projects included field surveys, generating engineering prints and bills of materials, network and splicing design, permitting, and acceptance testing. We also developed RFP language for OSP construction and fiber maintenance.
CTC currently provides the County with ongoing engineering support for various last-mile engineering projects and provides construction oversight and QA/QC work for the county.
Arlington County, VA
CTC is designing and managing the construction of ConnectArlington, the last-mile fiber network that will connect approximately 80 of the County's government buildings, schools, and public safety facilities. CTC provides start-to-finish engineering for last mile sites, including site surveying, CAD design, CAD review, and Professional Engineer certification. Our staff is overseeing every aspect of the project, from network mapping to construction supervision and acceptance.
We have also developed the business plan and strategy for the County's dark fiber leasing initiative, and have prepared an RFP for the County's use in selecting a fiber broker. This third-party broker innovation is the first of its kind among public entities in the United States.
Additionally, we are providing critical input into the design and testing for other phases of the County's self-managed fiber construction project, which will ultimately have close to 60 miles of backbone fiber.
Related to this task, CTC advised the County in its search for a fiber management system and development of a fiber documentation process. CTC is working with the County to integrate GPS location data into its documentation process—bridging the gap between GIS, GPS, and outside plant engineering.
Baton Rouge, LA
CTC engaged with the City-Parish on the development of a multifaceted strategic fiber plan. Our project includes three primary elements. First, we assessed the feasibility of a broadband public–private partnership. Second, we developed an E-rate analysis and strategy to enable fiber deployment to every library and K-12 school. Third, we developed a "dig once" policy assessment and recommendations. Our work included conducting statistically valid market research, preparing an RFI to identify potential private sector partners, developing an engineering analysis and cost estimate for network deployment.
Crown Fibre Holdings (Government of New Zealand)
CTC's Director of Engineering, Dr. Andrew Afflerbach, served as technical advisor to the Chief Technology Officer of Crown Fibre Holdings, the entity overseeing the construction of a $1 billion open-access FTTP network that will connect 75 percent of all homes and businesses in New Zealand.Andrew led a team that developed an FTTH architecture for the project, and worked closely with the candidate fiber construction companies across the nation to develop requirements for outside plant fiber and network electronics. He also developed bid specifications for a nationwide procurement, and supported the preparation of all procurement documents. Andrew then led the CTC team that evaluated vendor responses to the procurement documents; this process, which was repeated many times for different aspects of the project, involved the creation and testing of detailed scoring matrices across dozens of parameters.
Garrett County, MD
In Garrett County, Maryland (a community that attracts skiers in the winter and boaters and bicyclists in the summer), we helped the local government with engineering and strategic and business planning for expansion of middle-mile fiber—then helped the county negotiate with a private partner to leverage that fiber to support the deployment of a fixed-wireless broadband network. The TV White Spaces network will serve up to 3,000 currently unserved homes in the most remote parts of the county.
Holly Springs, NC
CTC conducted a broadband needs assessment and developed a strategic approach and return on investment (ROI) analysis for constructing Town-owned backbone fiber. Our team of project managers, outside plant engineers, and network engineers then designed and oversaw implementation of a middle-mile fiber network serving the Town's schools, libraries, and major economic development partners. The first sites on the 19-mile network went live in June 2014.Building on the success of the Town's middle-mile network, we then assisted the Town in pursuing its goal of deploying residential fiber-to-the-premises (FTTP) services. As in our engagement with the City of Westminster, Maryland, we assisted the Town in identifying a private partner to assume operating risk in providing services to the public. Ting Internet will build an FTTP network using the Town's backbone infrastructure; the Town announced its public–private partnership in 2015.
As an extension of our work in developing Holly Springs' fiber business plan and in providing a full range of network implementation support, CTC is working jointly with the Town and the North Carolina Department of Transportation (NCDOT) to solve traffic communications problems by connecting signals, cameras, and traffic control infrastructure to the Town's fiber network.
Maryland Inter-County Broadband Network (ICBN)
CTC was the lead engineer for the development of the ICBN project, a $72 million sub-grantee of the One Maryland Broadband Network. We designed and engineered ICBN fiber routes for four large counties. In addition, CTC Principal Engineer Matt DeHaven served as Portfolio Manager for the project across nine counties. He was the lead technical consultant overseeing the grant funds to build 800 miles of fiber optics and connect approximately 650 schools, libraries, and local government facilities.
Montgomery County, MD
CTC has provided technical, engineering, and strategic support to Montgomery County's Department of Technology Services on its most significant recent infrastructure initiatives, including:
• FiberNet: We developed the initial design and architecture, in collaboration with the Department of Public Works and Transportation, for the network that would later become FiberNet. We did this in response to the immediate need to support traffic communications and cameras—but also in response to what we saw as the County's future needs for networking, video, data services, and the internet.
Later, during the County's cable TV franchise renewal, we identified as a high priority the need to obtain fiber-optic infrastructure from the cable operator; this outside plant would complement the County's existing infrastructure and become part of FiberNet—and enable the County to have high availability services at a reasonable cost. As a result, the County has become a national leader in its network and enterprise capabilities.
CTC also assists the County by providing support for the technological evolution of FiberNet, so it can better meet the growing customer demand caused by the growth of the network's physical footprint.
Recently, we completed a preliminary analysis of optical network hardware platforms based on a high-level understanding of growing capacity demands and emerging requirements across FiberNet's increasingly diverse customer base. The analysis identified differentiating attributes among market-leading optical network platforms offering strategic advantages aligned with the County's objectives, and developed baseline specifications and a system-level design for an initial upgrade phase. We also evaluated options for DTS to use FiberNet to expand service to Montgomery College and Montgomery County Public Schools.
• UltraMontgomery: To support development of the County's UltraMontgomery fiber infrastructure, our team prepared a fiber market analysis, conducted a competitive assessment of the fiber market, developed a set of proposed in-building wiring standards, and identified a likely evolution path to guide the County's planning. During the initial stages of this ongoing project, we identified opportunities to cost-effectively expand County fiber to serve two science and technology corridors, as well as to link the County to the Equinix Data Center in Ashburn, Virginia.
• Maryland Inter-County Broadband Network (ICBN): CTC provided technical leadership and detailed outside plant design services for the ICBN. As the Portfolio Manager for this project, we oversaw and directed engineering and fiber network construction contractors—including the expansion of FiberNet with 132 additional miles of fiber constructed to 100 new sites.
• NCRnet: Through our engineering, planning, and integration efforts, the County continues to maximize the benefits of its interconnection with the National Capital Region interoperability network—supporting public safety, video conferencing, and other applications and ensuring reliable communications across jurisdictions.
Westminster, MD
CTC prepared a fiber feasibility study and business case for the City of Westminster in 2012 and 2013. Our report, which focused on maximizing available backbone network connectivity, included a technical design and cost estimates for two last-mile fiber-to-the-premises (FTTP) pilot projects (one focused on residential customers, one focused on businesses).
Following the City's decision to move forward with the pilot projects, we provided support on a range of fiber infrastructure engineering, network design, vendor selection (i.e., we wrote the RFBs for construction), construction oversight, and quality assurance tasks for the pilot projects. While the City moves forward with plans for a full, citywide FTTP network deployment, CTC as taken the same engineering and construction oversight role for 80 miles of OSP fiber routes.