Ziggy Rivkin-Fish, VP for Broadband Strategy
CTC Technology & Energy
With the Federal Communications Commission's (FCC) rejection of broadband funding for two of the biggest winners in the Rural Digital Opportunity Fund (RDOF) auction, more communities with areas currently unserved by broadband now have the opportunity to finally get future-proof fiber with federal funding.
Figure 1: Areas awarded to LTD Broadband and Starlink in the RDOF auction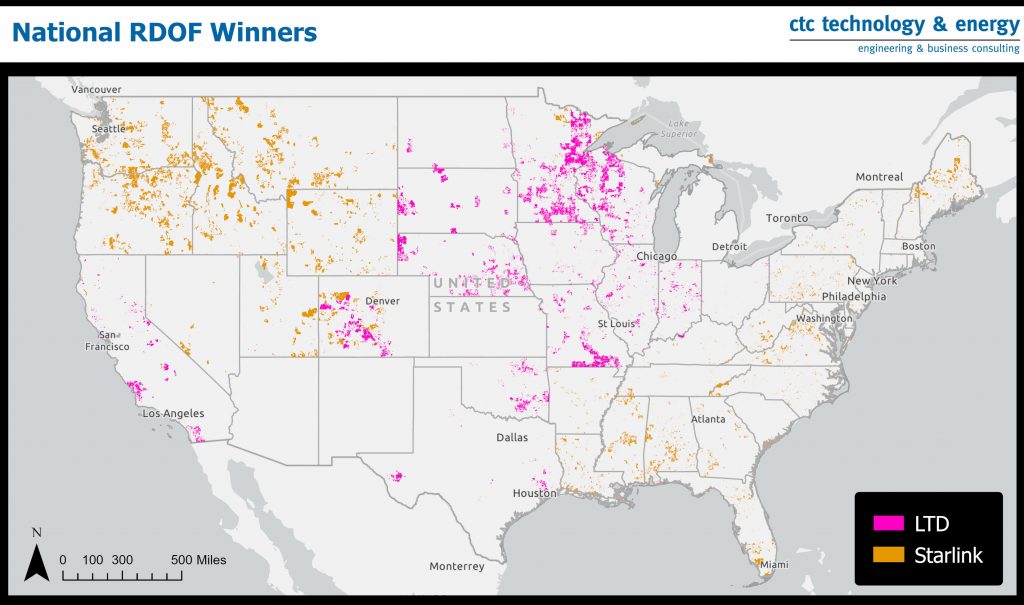 On August 10, the FCC announced that it rejected authorizing $2.2 billion of funding over a 10-year period previously assigned to two massive auction winners—SpaceX's Starlink, the satellite provider founded by Elon Musk, and LTD Broadband, a small fixed wireless provider that proposed a hybrid fiber optic and fixed wireless network with gigabit speeds across 15 states.
RDOF bidders submitted a short-form application to participate in the initial RDOF auction, where they were sorted into tiers based on the speed and latency they could deliver. Starlink and LTD were weighted favorably, giving them an advantage in competing with gigabit fiber providers—despite offering operationally unproven technologies. By bidding aggressively in the reverse auction, they won big[1]: LTD was originally awarded approximately $1.3 billion, and Starlink won nearly $886 million.[2] However, winners were required to submit a long-form application after the auction with more detailed financials and buildout plans. After reviewing Starlink and LTD's submissions, the FCC determined the companies could not deliver the services they committed to in the auction.
Other RDOF awards to wireless providers, albeit not as large, may also be vulnerable to rejection as the remaining awardees yet to be certified undergo the long-form process. To date, the FCC has mostly approved fiber-to-the-premises (FTTP) providers, as well as some fixed wireless and hybrid technology bidders that promised to deliver 100/20 Mbps or lower speed tiers.[3] The remaining bidders yet to be certified include winners that controversially claimed they could deliver gigabit speeds with fixed wireless or a hybrid between fixed wireless and fiber; the FCC's rejection of LTD signals that these providers could be in jeopardy if their claims are specious.
Communities can now plan a future-proof solution via BEAD
RDOF made available the largest amount of broadband infrastructure funding in U.S. history at the time of the auction.[4] Since then, however, Congress has made enormous sums of money available for broadband through new funding programs, including those in the Infrastructure Investment and Jobs Act (IIJA). In particular, the Broadband Equity, Access, and Deployment (BEAD) program—part of the IIJA—provides $42 billion to expand high-speed internet access.
However, the IIJA legislation and subsequent Notice of Funding Opportunity of its BEAD program ruled areas with RDOF awards to non-satellite providers ineligible for funding—including the areas assigned to LTD. The FCC's decision rejecting RDOF certification of LTD should benefit these areas in particular, and it also potentially benefits other communities, including those with areas that Starlink previously won.
Communities now have the chance to have these areas included in a planning process designed to produce a better, future-proof fiber solution through the BEAD program. Unlike RDOF, the BEAD program requires extensive planning and coordination by state broadband offices with localities and stakeholders; its goal is to design a state-driven grant program that can solve broadband gaps with the best possible technology feasible for a particular area. BEAD explicitly requires fiber as the default option, while defining some locations as likely requiring non-fiber solutions because of "extremely high cost."
By contrast, the RDOF process assumed local planning was of low importance. Local and state governments were not engaged in the decision making; instead, RDOF simply ranked providers by technology-agnostic speed and latency tiers in an attempt to automatically deliver the best technology feasible at the lowest cost. As the FCC's rejection of two of the biggest winners makes clear, this approach did not work.
The FCC can use its extra money for projects BEAD is unable to fund—or to fund the ACP
In addition to allowing some communities to participate in the BEAD planning process, the FCC's decision sends the rejected funds back to the RDOF pool. These funds could be used for future FCC programs to plug any unserved and underserved holes left over after BEAD funds have been allocated.
While a future auction round of RDOF (RDOF II) had been planned, the FCC has put the second auction on hold until it has updated its broadband maps through the Broadband Data Collection (BDC) program.[5] Combining the money planned for that future auction ($11.2 billion)[6] with the recently rejected funds, the FCC would have at least $13.4 billion available. These funds could be used to support the deployment of future-proof technologies in areas that remain unserved or underserved when BEAD funding is exhausted, or the money could even be allocated to extending benefits under the FCC's Affordable Connectivity Program (ACP). This program provides a monthly subsidy toward internet subscriptions for eligible low-income families; it is expected to run out of money in 2024. Additional funding for the ACP and/or areas not adequately served by BEAD could mean lower-cost, higher-speed connectivity for the RDOF areas previously awarded to Starlink and LTD.
---
[1] Ziggy Rivkin-Fish, "FCC's Rural Digital Opportunity Fund Auction Was Supposed to Significantly Reduce America's Rural Broadband Gap," The Benton Institute for Broadband & Society, December 21, 2020, https://www.benton.org/blog/fccs-rural-digital-opportunity-fund-auction-was-supposed-significantly-reduce-americas-rural (accessed August 12, 2022).
[2] Federal Communications Commission, "FCC Rejects LTD Broadband, Starlink Bids for Broadband Subsidies," August 10, 2022, https://www.fcc.gov/document/fcc-rejects-ltd-broadband-starlink-bids-broadband-subsidies (accessed August 12, 2022).
[3] Federal Communications Commission, "Auction 904: Rural Digital Opportunity Fund," https://www.fcc.gov/auction/904/releases (accessed August 12, 2022).
[4] Federal Communications Commission, "FCC Launches $20 Billion Rural Digital Opportunity Fund," https://www.fcc.gov/document/fcc-launches-20-billion-rural-digital-opportunity-fund-0 (accessed August 12, 2022).
[5] Federal Communications Commission, "Broadband Data Collection," https://www.fcc.gov/BroadbandData (accessed August 12, 2022).
[6] Universal Service Administrative Company, "Rural Digital Opportunity Fund," https://www.usac.org/high-cost/funds/rural-digital-opportunity-fund/ (accessed August 12, 2022).