As smartphones, tablets, and other data-hungry mobile devices continue to gain market share, the demand for wireless data services continues to increase nationwide—and telecommunications carriers are constructing antennas, towers, and other types of infrastructure to meet their customers' needs.
CTC plays a key role in helping local governments balance the carriers' need for a timely, fair, and consistent approval process with their citizens' interest in minimizing the impact of wireless infrastructure in their communities. As an independent Wireless Tower Coordinator and adviser, we provide our clients with independent engineering analysis of proposed wireless projects and offer recommendations for action based on local and national codes and regulations. To date we have reviewed more than 2,800 wireless applications. And we conduct all of our work in accordance with FCC "shot clock" regulations for the timely review of wireless siting applications.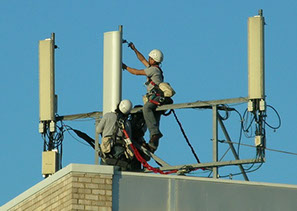 Our team helps to administer the tower siting process for many of our clients, from initial application to final construction. We ensure that applications meet zoning requirements for the proposed site and conduct detailed physical site inspections to determine potential community impact. Our staff also provides engineering support to local governments' Tower Siting Committee members, including interpretations of FCC guidelines for RF emissions, identification of potential conflicts related to antenna siting, and general explanations of the technical aspects of cellular service.
During the tower siting process, CTC serves as the liaison between local governments and wireless service providers, and resolves questions regarding the accuracy and completeness of the applications. We also work with agencies and carriers to facilitate co-location of new wireless equipment at existing locations—an alternative to building new tower structures, which is a key objective of the tower siting process in many communities.
In addition to reviewing all the technical aspects of applications, CTC provides administrative support to local governments' tower siting processes. We prepare the necessary documentation regarding the wireless siting application, record minutes of committee meetings, and lead committees through their reviews of each application. Our team also meets with interested citizens and community groups to discuss any concerns they may have or to provide information regarding a specific tower siting.