Reliable and secure communications are vital for public safety officials to be able to respond effectively to emergencies and disasters. Because commercial services, such as cell phones, may be interrupted during a critical event (such as a natural disaster or national security threat), public safety officials, first responders, and government leaders must have access to communications networks that are designed to function no matter what the emergency.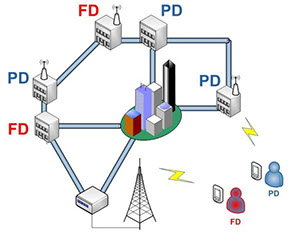 CTC has a long history advising governments on their public safety networking needs. Our staff has a deep understanding of the highly specialized and unique functional demands these networks must meet, and we have planned and designed public safety networks with a full range of communications technologies.
Our expertise ranges from in-depth needs assessment and requirements projection to specifying and procuring fiber, wireless, and microwave resources for public safety and homeland security needs. In addition, we have conducted user requirements analyses, cost modeling, system planning, system component specifications, performance modeling, implementation oversight, system certification, acceptance testing, and facilities inspections.