When a local government franchising authority grants a cable television operator the right to offer service in an area, the cable provider must properly maintain its equipment and adhere to federal requirements for system performance and signal quality.
To ensure that cable operators are meeting the terms of their franchise agreements, CTC supports local governments with independent evaluation and testing of cable systems. We ensure that the system is maintained to a high standard; identify specific problem areas; and make recommendations on system improvements. We travel and inspect numerous sites throughout the community, and conduct field ride-out inspections of cable lines to ensure cable equipment is properly installed and that safety procedures are followed.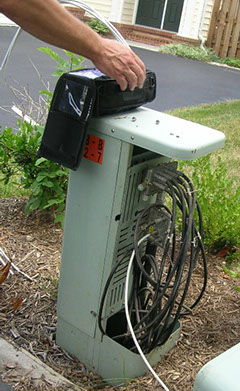 CTC has also provided testing oversight for public, educational and governmental (PEG) access channels, which are typically provided as part of a franchise agreement. We review programming origination transmission links to ensure that the PEG signals are maintained to the same standard as the other cable channels.
We also maintain a test results database based on our extensive experience in cable performance testing. This data set allows us to discuss a cable system's performance in greater detail and provide analysis that goes somewhat beyond the FCC's minimum required performance measurements.